Improving Together for All – Patients, Families and Healthcare Workers
Lean Healthcare Academic Conference
At
Stanford 2022
Dates:  Tuesday October 11 and Wednesday October 12
Just Over 3 Weeks to Go! 
Event Update:
The program is now finalized with over forty oral presentations incorporated into the program in plenary and concurrent sessions. Many of the presentations will deliver insights into our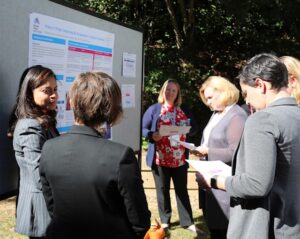 conference theme "Improving Together for All – Patients Families and Healthcare Workers." The poster presentations in the gardens of Arrillaga are a highlight of our face to face event and we are excited that this year there will be more posters than previous years. This indicates our desire to connect and network in person, sharing and learning together. The posters, submitted from 12 organizations cover a diverse range of topics including innovative ways of building improvement capability, increasing the equity, access, safety and clinical care of our patients and using digital platforms to meet the needs of our patients and staff. Conference participants will select the poster which demonstrates the strongest application of improvement.
We have a lot to catch up on at our 7th Annual LHAC. Work practices have altered dramatically over the past two years and as we re-calibrate from the pandemic phase, adjusted ways of working are needed to improve the care, service delivery and outcomes for our patients and their families.  The healthcare workforce has been hit hard by the effects of COVID and we need to leverage our lean management system to connect, understand and work together with our teams to rebuild an improved healthcare community. Through our formal and informal conversations, we plan to broaden and deepen our understanding of improvement within the academic healthcare setting.
Our conference invited speakers, abstract and poster presenters, will provide a diverse perspective on our conference theme as they apply to healthcare and we look forward to sharing these together.
Add these important dates in your calendar and register before the early bird deadline to ensure your place at this years event!  The final program is now ready and the latest update is available now.  We look forward to seeing you all very soon!
With warm regards
Lean Healthcare Academic Conference Organizing Committee
KEY DATES
Final Program
Available Now
Early Bird Registration Close
Extended – September 24
Registration Close
October 5
Lean Healthcare Academic Conference
October 11-12, 2022